Company info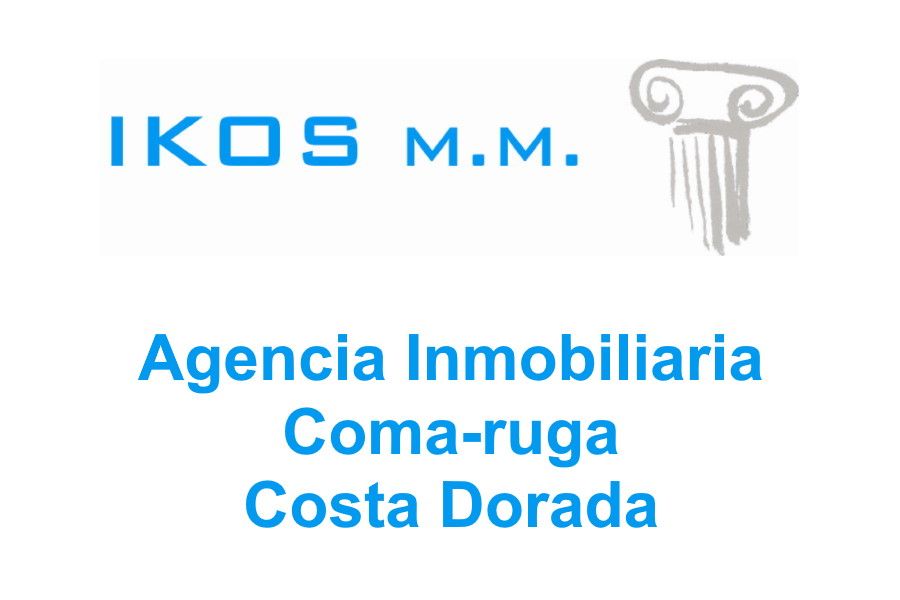 We want you to get to know our company Ikos M.M., a real estate agency in Coma-ruga, Costa Dorada, a little better.
What makes us different from other real estate agencies? Mainly our most humane policy. What matters most to us are human relations and good customer service, not profit at all costs. For this reason, and surprising as it may seem, our intention is that when you contact us, you will not only be speaking with a trusted professional but, above all, with a friend.
We look forward to meeting you and working with you to provide you with the right client for your property. We will put all our resources at your service and we also offer you the services of our legal and tax advice free of charge.
Company origin
We started our activities in 2001 and from the beginning, the objective is to get the client to trust our work and be satisfied with our service, now we are closer to the figure of the real estate broker and coach than to the conventional agent. For us, knowing that most of our clients come from others that we had before is a source of pride and a fundamental incentive to follow the same line.
We want and believe that we contribute to the sector to which we belong to be dignified with our activity and we are satisfied with what we have done. , but very pending to continue with the same spirit in the future.
From our beginnings and, after the different experiences, we have wanted to specialize in 2 large areas:
1. Homes in the Coma-ruga area and its surroundings. In other words, attics, attics, rehabilitated and new apartments, rehabilitated buildings, houses and new works.
2. Commercial premises throughout the Comarca Vendrell area, from the most modern to the most traditional areas (Central, Coastal, tourist areas, etc.) looking for those establishments that best suit the needs of the investor or businessman who trusts us.
Since then, many clients and especially those related to any Hospitality establishment (restaurants, bars, cafeterias, hostels, cocktail bars, etc.) have honored us with their trust and we believe that we know how to help them in this field with honesty, transparency. and the confidentiality they deserve.
Our Ethical Guide
We have some ethical principles that we want our clients to know: Prior advice, Seriousness in treatment, Guarantee of agreements, Efficiency of our professionals, Speed in negotiations, Discretion in negotiation
Commercial Activity and customers
Consequently, and in summary, we offer something very simple but not easy:
1. In housing, we offer INDIVIDUALS AND INVESTORS for:
1. SELL SOON and at the best price
2. BUY WITH GUARANTEE and speed
3. RENT WITH SERIOUSNESS and tranquility
4. FINANCE YOUR NEEDS, by collaborating with serious, agile and competitive financial entities.
2. In commercial premises to INDUSTRIAL / TRADERS / INVESTORS
1. We search for you The business/office premises best suited to your commercial activity (hospitality, professional office, commerce,...) combining the best location, price and necessary services (parking, shopping areas, etc.) within the utmost discretion. We can find the necessary financing for you.
2. We facilitate the sale/transfer/rental of your business premises/office to other entrepreneurs/industrialists or investors, within the maximum agility and confidentiality, as well as, where appropriate, the study of other possibilities of transmission of your activity (companies, purchase and sale rights, etc...).
3. Promoters and reformers
1. We market your properties and units (homes, premises and offices) with speed and guarantees of seriousness. With and without exclusives. References in the area.
2. Comprehensive reforms of all properties are carried out. Ask us for an estimate without commitment.
3. We manage and process Certificate of Habitability.
4. Foreigners
1. Our need to attend to other clients that come to us from outside Spain, oblige us to provide direct attention in English and French, languages in which we can effectively communicate both the offers and demands of our properties as well as the specific conditions that can be negotiated. in each case.
2. Golden Visa. If you are a person from a country outside the European Union, we can advise you on the necessary procedures to manage and obtain the Golden Visa that allows you to obtain permanent residence in Spain.